Photos are very dynamic. For one, you cannot reproduce the same photograph again. And two, even if you have a backup of your original somewhere safe (which you should), you can never reproduce your work done on a Project no matter how hard you try.
Typical usage scenario- You open a portrait, do some brushwork on the picture, then erase some parts of the background that you don't need, then do some brushwork again, do a lot of work here and there, and finally you realise that you erased the guy's ear along with the background. You can't go through the undo steps cause that will erase all your other work you have done afterwards. It then involves a lot of copy pasting from the original file and the end result is usually a mess. Now what if you could get back that ear without even doing a single undo? What if you could reduce a little bit of that burning you did on the eyes? In a fast workflow where time is of the essence, this plays a big role.
So here I list some tips for non-destructive editing in Photoshop. I am using Mac & in case you are using Windows use Ctrl+* instead of Command+* (Here * is the shortcut key). I assume you have moderate skills in Photoshop cause I won't go over how to create layers and such.
Masking:
Never use the Eraser tool unless you are absolutely sure you will not need those pixels. Which in most cases, is never. Use masks. They are easy, non-destructive and produce some great results.
Step 1:
Make sure you aren't working on the background layer. Double click it to make it a regular one. Then hit the "Add layer Mask" button at the bottom of the layers palette to add a layer mask to the current layer. In this example I have duplicated my layer, and added a layer mask to the top layer. I intend to remove the moon without much trouble.
Step 2:
Black hides, White shows. No matter how you make it happen, just remember that. So here I took a soft round black brush and painted over the moon (making sure I have the white mask selected in the layers palette). If I make a mistake, I simply hit X (to switch my foreground colour to White.) and paint over to bring those details back. In this example, I painted over the moon, and shifted the bottom layer so I could get some sky under the erased area.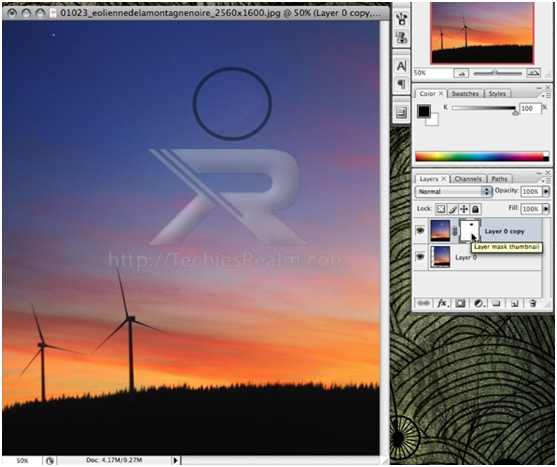 Smart Objects:
Starting with CS3, smart objects have brought about a world of changes with regard to non-destructive Photoshop editing. You can resize, rotate, and even have layers within a smart object without changing it in the main document. How does it work?
Step 1:
Import any object into a PS document onto its own layer. Then right click it, and select "Convert to Smart Object". From that point on, you will not be able to directly do any brushwork, or other such direct destructive editing to that object. You can however change blend modes, and do all kinds of transformations using the Free transform tool without bothering about your original getting mucked up. So how do you edit the object? Just double click the layer, and it will spring out into its own little PS window. There you can do your brushwork, masking, layers, and do some moving around here and there. These changes of course will be destructive depending on how you make them. Then hit File > Save and the object then changes on your original PS document.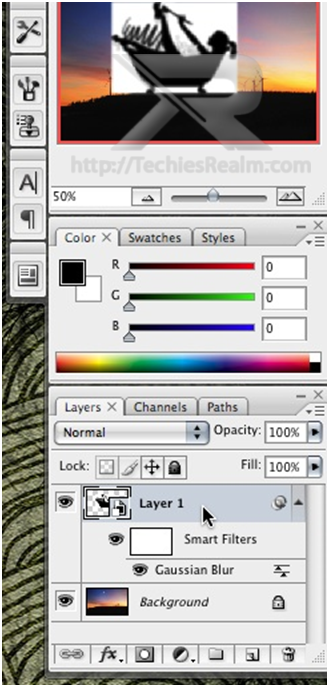 Why is this helpful? You can reduce the size of a large object without worrying about later having to make it a little bigger. You can sketch, skew. You can also place RAW files into Photoshop. You can add filters to objects and you can then toggle them just as you toggle layer styles. The advantages are huge.
Adjustment Layers:
How do you change the Hue/Saturation of an image? Command+U? What if you make the image too light, then did some excellent brushwork, and then realise you wanted the image a little darker? Command+U again?
Try adjustment layers. They are very easy to use, yet very few use them. At the bottom of the layers palette, there's a button for adjustment layers. You can adjust colours, levels, Hue/Sat and a whole bunch of other stuff without worrying about making destructive changes to your document. Now, one problem with an adjustment layer is that it affects all the layers below it. So if you have two or more layers under the adjustment layer, it affects all those.
There are two ways out of this. Either you can add a mask on the Adjustment layer, or make the layer a Smart Object, and then add the Hue/Sat.
To add a mask, place the adjustment layer above the layer you want adjusted. The layers at the bottom will also be affected at this point. Then, you add a mask to the adjustment layer clicking the new mask button (if the mask isn't already there). Then, Command+Click the thumbnail of the layer you want masked (selects all layer pixels), hit Command+Shift+I (Invert selection) and then making sure you are active on the Mask of the adjustment layer, fill it with black.
In the screenshot, I wanted the left side of the image, which sits on the top layer, darker than the right side. So I added a hue/sat adjustment layer above both of them. Then I filled the right side of the adjustment layer mask with black so that the bottom layer is not affected by the layer mask.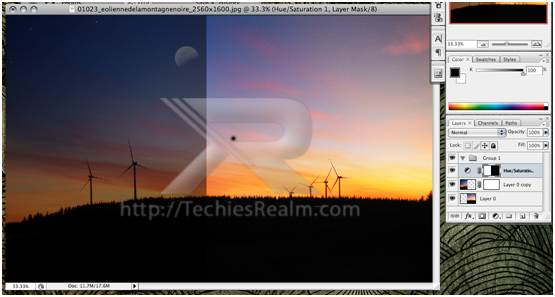 Now I could have just as well moved the bottom layer on top of the layer mask in this case, but sometimes you need to have some layers at the bottom and this technique proves useful. There will however be times when transparency is involved, in that case the safest way is to create a smart object.
Changing Colour:
Do not ever paint directly on an image where the picture lies. Always paint over a new layer. You can then adjust transparency, blend modes. For instance, changing the blend mode to Colour has the same effect as painting over an image using the Brush blend mode set to colour.
Blending Options:
Of course, make good use of the blending options. Instead of painting over an entire image with a brush set to multiply, simply add a Colour Blending Option with the same result.