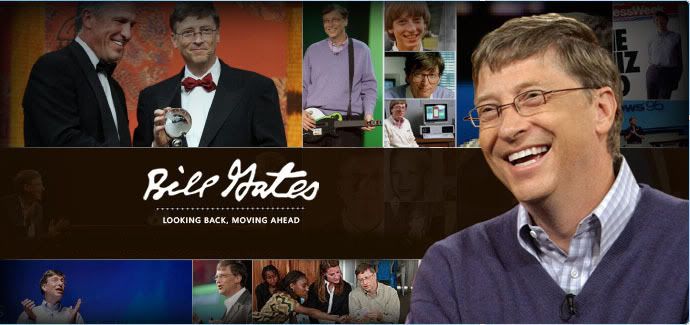 Bill Gates- the man with a vision & a legend is retiring today, leaving behind his legacy. He will still be the Chairman of Microsoft but will now be spending more time guiding Bill & Melinda Gates Foundation.
Mr. Bill Gates was the man with both technical & business management skills and I wonder if Microsoft will be able to dominate the software industry in the hands of Steve Ballmer? I am not so sure and I guess only time will tell the future of Microsoft.
Bill Gates might be retiring but he will never be forgotten, he will always remain in the history of computing. I would like to wish Mr. Gates all the best for his future and plans.
Today, while surfing the internet, I found a wonderful article by Joel Spolsky. Joel worked for Microsoft as a program manager in MS Excel team. He recalls what it was like to work for Bill Gates:
When i graduated from college, in 1991, I started working for Microsoft (NASDAQ:MSFT) on the Excel team. My title was program manager. I was supposed to come up with a new programming system so users could automate Excel. I sat down to write a spec, a huge document that grew to hundreds of detailed pages.

In those days at the company, we used to have these things called BillG reviews, at which Bill Gates personally went over every major new feature. At the time, he was already famous and on the cusp of being named the world's richest person. The day before my BillG review, I was told to send a copy of my spec to his office. It consumed almost a full ream of laser-printed paper.

Once the spec was printed and on its way, I picked at random one of the million little details of the spec that I still had to tackle: figuring out if Excel's internal date and time functions were compatible with BASIC, the programming language we were using on the project.

The next day — June 30, 1992 — we gathered in a conference room. In those days, Microsoft was a lot less bureaucratic. Instead of the 11 or 12 layers of management the company has today, I reported to Mike Conte, who reported to Chris Graham, who reported to Pete Higgins, who reported to Mike Maples, who reported to Bill. About six layers from top to bottom. We made fun of companies like General Motors, with their eight layers of management.

So the whole reporting hierarchy was there — along with, it seemed, its cousins, sisters, and aunts. Someone from my team was there, too. His job was to keep track of how many times Bill said the F-word. The lower the F-count, the better.

Bill came in. I thought about how strange it was that he had two legs, two arms, one head, etc. — almost exactly like a regular human being. And he had my spec in his hand.

He had my spec in his hand!
This article is a must read for everyone, whether you admire Bill Gates or not. I loved every single word in it. I wish I could meet Mr. Gates someday & have a conversation with him followed by a cup of coffee.
I am signing off on this note- Long live Mr. Gates & long live his legacy.