Google released Chrome, an internet browser, recently. The web & twitter is going crazy over Google's latest offering. Here's what you must be thinking- Should you ditch Firefox for Chrome? That needs to be answered with facts & tests. So here I am with a small review of Google Chrome.
How to Download:
To download Google Chrome click here. After clicking the download button on the website you'll be downloading a 475 KB file. After the download completes, execute that file. Now it will download the main installation files. Why does Google wants us to download two files?
Features:
Tabbed browsing- Nothing new in this. Tabbed browsing is available in Opera, Firefox, Internet Explorer and Safari.
Application shortcuts- You can create shortcuts to websites or websites offering services like email. The shortcut is then created on desktop/start menu/quick launch bar. When you open the shortcut the website is opened with maximum space without the usual bars & tabs. It gives you the feeling like you are using an application instead of browsing the web. Pretty cool!
Independent tabs- The whole browser won't crash in case one of the tab hangs or crashes. You can simply close that misbehaving tab from task manager. Expect this feature in Internet Explorer 8 too.
Incognito mode- It's similar to Private Browsing in Safari. The pages you view are not saved in history and cache. Cookies, form information and passwords are not saved as well. Internet Explorer 8 Beta 2 also has a mode called InPrivate similar to Incognito mode. This, once again, is nothing revolutionary.
Safety- There is no innovation here too. It's pretty similar to Firefox 3 , Opera 9.5 & Internet Explorer 7+.
Address Bar- It's similar to both Firefox and Internet Explorer 8 Beta. Nothing much to say about it.
What's good:
Snappy- It loads pretty fast. You'll feel like you clicked the icon & it opened at once.
Memory usage- It uses very less memory compared to Firefox.
Status bar- It's pretty different & is smaller in size from other browsers.  It appears only when the page is loading but then Opera's status bar can also be set like that.
Interface- Interface, like other Google products, is very simple & easy to understand. It doesn't take much time to get used to this browser.
What's bad:
No close confirmation- When multiple tabs are open & you hit the close buton (X) on the right, it doesn't ask if you want to close all the open tabs. I accidentally closed the window twice & lost the work I was doing.
No addons- Firefox addons addict will not be satisfied with Chrome as they want control over everything.
No RSS support- It does not support RSS feeds. Yes you read it right!
Status bar- Okay, status bar comes both in good and bad categories. The bad is there is no progress bar hence you don't know how much data is left.
Poor rendering- Google Chrome renders pages poorly. The edges are not anti-aliased & gives out a very poor output. Here are the screenshots:
Chrome rendering: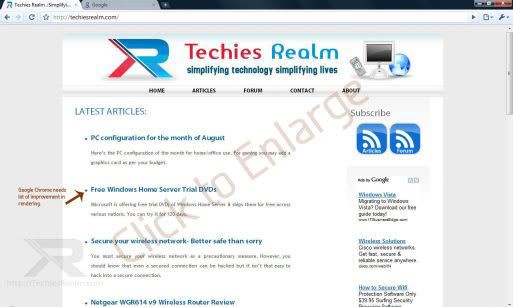 Firefox 3 rendering: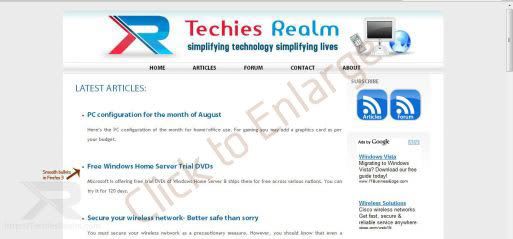 In the screenshots you can clearly see the difference between the rendered output of Chrome & Firefox 3. You can also try Internet Explorer, Opera or Safari and will see the difference between them & Chrome.
Conclusion:
Google Chrome is still in beta and it looks promising. But as of now it's not much of a competition to other browsers. So stick with your browser which ever you are using at the moment but do give Chrome a try as it's worth trying.