Estimated Time- 30 Minutes to 1.30 Hour
Our computer keyboard is the most used part of our computer along with the mouse. Most of us use the computer even while eating food & drinking beverages. The mouse can be cleaned up easily but the keyboard suffers the most. Ketchup, soft drinks, juices & coffee can often be found spilled on keyboards. Bread crumbs, pizza, pasta etc. can be found in between keys. Harmful bacteria are thriving in our keyboards!
I usually clean my eight years old white Samsung keyboard with cloth & soapy water. However this time I thought of cleaning Mr. QWERTY thoroughly. I am explaining the whole procedure in following steps:
What you need to clean a keyboard:
A Compressed air can or a Vacuum cleaner.
Cotton swabs & these vacuum cleaner accessories(Optional).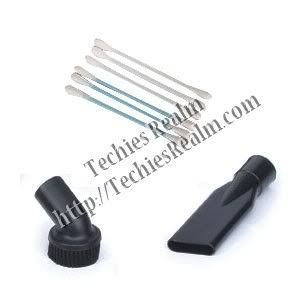 Soapy water.
Digital Camera(Optional).
Keep all of these handy & ready.
The Procedure:
Switch off your computer & unplug the keyboard from the socket.
Take a picture using a digital camera or write down the layout of all the keys. Remember, this is a very important step. Chances are you'll forget the layout if you don't capture it or write it down. Please be careful if you are using mobile phone camera. Most mobile phone cameras are unable to capture the written text on keys.
Here's my white Samsung keyboard which I am going to clean:
Clean your keyboard for dust with a cloth or a tissue.
Use vacuum cleaner with brush attachment and move it over the keys
Now using the flat head screwdriver, I'll remove the keys one by one. Place the screwdriver tip underneath the keys. To get started always remove the corner key first as its easier that way. Please be very careful while removing & do not remove the big keys(Enter, Space, Shift etc.). These big keys are difficult to put back into place once removed. They have a metal shaft which needs to be properly put into the sockets to get them working again. However if you are sure you can put them back or want to do it for fun then remove them carefully. I am going to remove all the keys. Here's how you need to place the screwdriver's tip underneath the keys:
Keep the removed keys in a safe place. I used a bowl to keep them safe. If you don't, you might end up with one or more missing keys. (Remember I am not responsible 😉 )
Once all the keys are removed, your keyboard will look like this: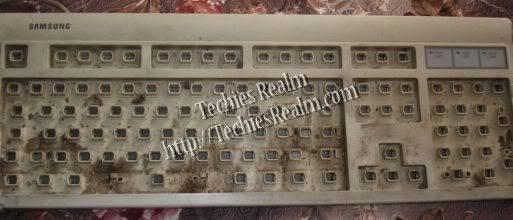 See what I was talking about? With spilled liquids, hair, dust & bread crumbs, your keyboard sure will look this way. Don't ask me how come it's so dirty. You'll know when you see yours!
Now pour water into the bowl with keys & mix some soap solution in the water. Do not use hot water for cleaning the keys as it can damage the plastic of the keys. Keep the keys in the soapy water for at least 30 minutes if they are very dirty.
While the keys are soaked, start vacuuming the keyboard without the keys. You'll notice that after vacuuming it seems pretty much cleaner.
Now soak a cloth or a tissue in soapy water, wring/squeeze it hard & start cleaning the keyboard(yeah, with no keys). For the edges use cotton buds soaked in soapy water. Be very careful while using water otherwise you might end up with a non-functional keyboard. The cloth & cotton buds should not be dripping water. The water should be squeezed out of cloth & cotton.
Dry the keyboard, after cleaning it properly, with a dry cloth or a tissue. Let it dry for some time. It'll look like this after cleaning:
Using a cloth start rubbing all the keys soaked in soap solution, one by one. You'll notice that the cloth is getting dirty. When the cloth gets dirty clean it under running water.
After you've rubbed the keys, dry wipe the keys with a dry cloth.
When the keys & keyboard are completely dry, start putting them back. You'll need the help of the picture you clicked or the drawing you made of the layout before removing the keys. To put them back all you need to do is put them on the hole & press the keys. They'll make a 'pop' sound when properly seated.
Have a look at my clean keyboard:

Doesn't it look like a brand new keyboard? Can anyone say it's a eight year old keyboard? Yippee!
Now plug the keyboard back into the socket. It should be working fine, if you followed my instructions carefully.
Clean your keyboard regularly & give a thorough clean after 6 months or an year depending upon your usage. Trust me, the sheer happiness of maintaining your computer hardware can't be compensated by buying a new piece of hardware!
WARNING- I am not responsible for any damage done to your keyboard and/or other hardware. If you follow the guide properly & use common sense, trust me, you won't harm your hardware.