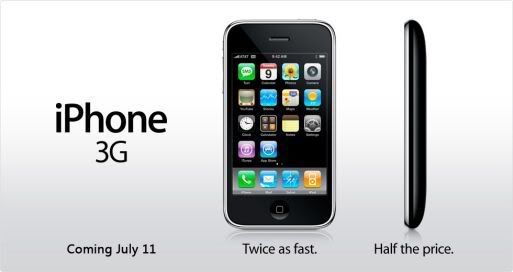 Apple, on Monday,  announced the launch of 3G iPhone in the Worldwide developers conference (WWDC) 2008. The 3G version of the iPhone was a much awaited release and internet was flooded with fake 3G iPhone images.
The iPhone 3G will have these new features:
3G-With 3G technology, you can browse internet & emails on the phone. This service is network dependant. iPhone 3G supports UMTS, HSDPA, GSM, Wi-Fi, EDGE, GPS, and Bluetooth 2.0.
GPS-You can find locations, check maps & traffic on your 3G iPhone.
Microsoft Exchange-The 3G iPhone supports Microsoft Exchange ActiveSync for emails in corporates.  You get these features- Push email, Push contacts, Push calendar, Global Address List (GAL) support, Certificates and identities, WPA2/802.1X, Enforced security policies, More VPN protocols, Device configuration & Remote wipe. Microsoft technology in Apple device? Strange!
App Store-Here you can find many applications & games which fully utilise the 3G iPhone's capabilities.
India Availability-The 3G iPhone will be launched in India by Vodafone & Airtel cellular services.
What we wanted but 3G iPhone won't have:
No A2DP audio streaming
No MMS
No Video Recording capabilities
No copy paste
iPhone 2.0 1.0 owners need not worry much! You will get many features of the 3G iPhone in the software upgrade which will be released soon by Apple. You will get these features in new software upgrade:
Applications for iPhone
Microsoft Exchange
Better email management
Mobile me